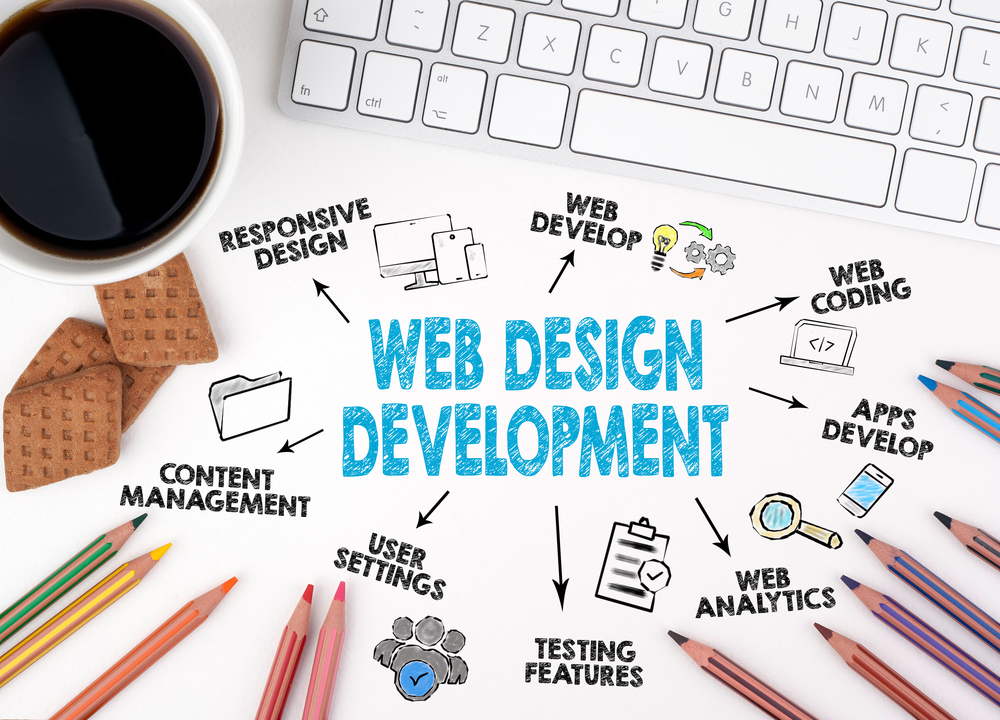 How to choose the right website design and development company?
Websites nowadays are becoming as common as an autorickshaw on the road. From business owners to a blogger, everyone is marking his online presence by launching a website. Well, that is something essential too. To pace with digitalization speed, you need to transform yourself accordingly.

A website is a digital or virtual place connected to the internet. Organizations or individuals can put information related to their services or products on a website. The information available on the website can be accessed worldwide by the World Wide Web.

But the entire website building and launching process aren't as simple as it sounds. Building a website is a technical process. From discovery to designing, from launching to modification, it takes a lot of effort and a team of experts to design and develop a website. This task is usually led by a web developing expert.

A web design or web development is a team of experts or an agency that develops custom websites, apps, and other digital platforms. The agency keeps in mind the needs and requirements of the clients and makes sure that its creation is embedded with the features and functionalities that brands need to grow online.

If you are looking for a website development agency for your business and wondering which agency is best for your purpose, worry less. IFW Web Studio is here to take away all your stress and worries. Here in this blog, we will see how to choose a proper web design and development company for your purpose.
How to choose the right web design and development firm?
Here are the qualities that make a web designing firm the best and most professional in its field.
1. Understand your Business :
The foremost factor you should check before hiring a web designing company is whether they understand your business or not? Check how the agency is approaching your requirements. If the agency has developed some past projects relevant to your company, choosing it can benefit you.
2. Refer to their past projects :
Check the records and projects delivered by your web development agency. This will help you realize if the agency can customize its tasks according to each client's business. While going through their previous projects, check if they target the client's needs or audience or if all their solutions look the same, like a randomly built website.
3. Communication and Collaboration :
Next, check how well your web development agency communicates with you. Check how enthusiastic they sound while learning about you and your business. If they lag while communicating the process, there is a chance of your project going haywire or stuck in between. An ideal web development firm should possess excellent communication skills and be available on multiple communication channels, like Skype, LinkedIn, Gmail, etc.
4. Work beyond Back-end Development :
Besides coding and programming, several other essential processes are involved in the web development process. To ensure more investment safety, you can choose a website that offers additional services and web development. These services may include automation services, mobile app building services, etc.
5. Expert Team :
Try to evaluate the team expertise of a web designing firm. Learn about their development experience and ability over specific skills. An ideal web developing platform should be versed in basic concepts like front-end, back-end, web development best practices, algorithms, databases, etc. A web development agency should contain QA engineers, architects, scrum master, IT professionals, team leaders, etc.
6. Finalize the Budget :
Always choose a development company that keeps its cost and expenses transparent. Discuss what your agency includes in development cost and how it will influence your project. Ask their hourly rate and seek some concessions if possible. Don't waste your money on unnecessary requirements.
7. After Go Live Support :
Choose a web design and development agency that supports you even the launch of a website. An ideal agency will support you even after launching the site and maintain the regular updates and enhancements as required with the time.

By considering the above mentioned six factors, you can choose a potential web designer and developer for your purpose. IFW Web Studio is a Udaipur-based web development agency. With 16 years of experience and more than 1000 websites designed and developed (pan India), IFW Web Studio is a team of professionals. We make sure to connect your business website with the digital world.

Committed to delivering unique and quality work, our primary focus is customer satisfaction. In our experience, we have hosted several sites, including responsive websites, E-commerce websites, CMS-based websites, parallax websites, and blog websites. We are adaptable to changes and feedback. If you are looking to hire a web designing and development agency for your business, IFW Web Studio promises you to be your best decision ever made. Contact us for more queries and details.