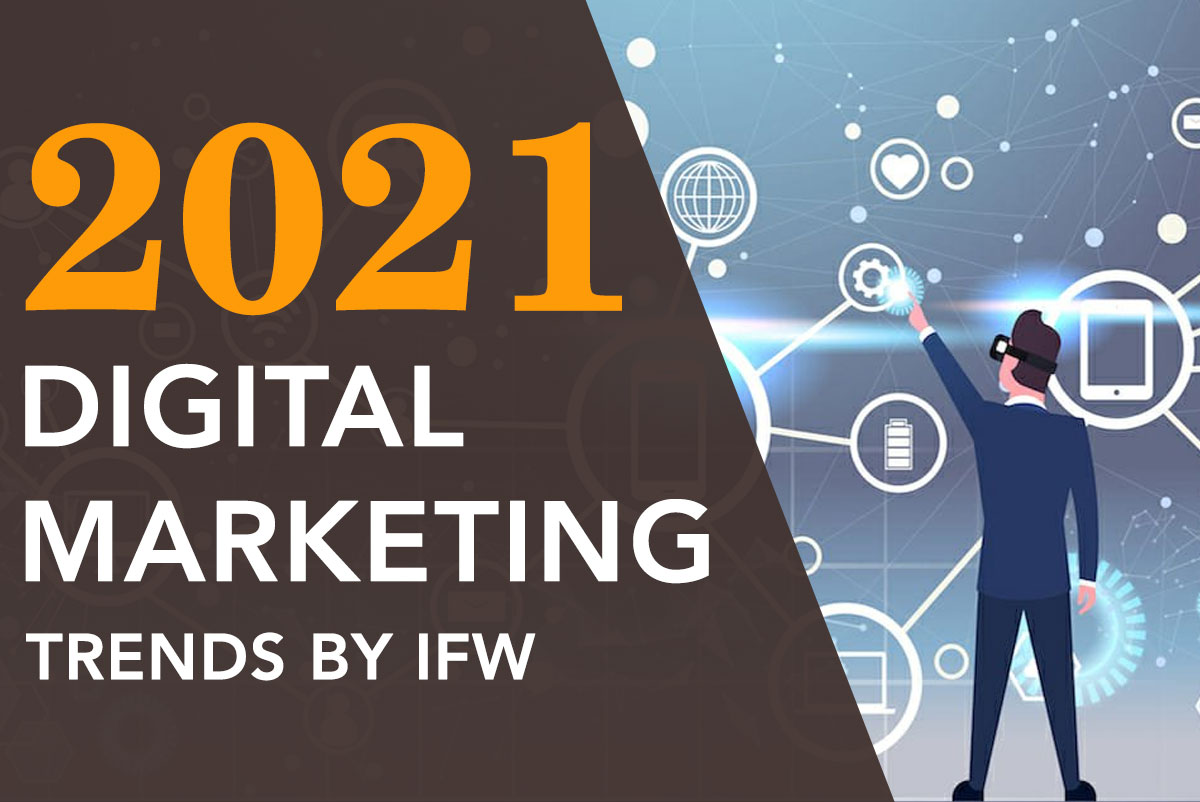 TOP 21 Trends for Digital Marketing of your BRAND in 2021 by IFW
1. Affiliate and Influencer Marketing
Role of Affiliate Marketing and Influencers will increase. Brand insertions with content creators, influencers, bloggers, vloggers, celebrities will go to the next level. Promoting a brand by sending products to bloggers/reviewers/influencers and positive coverage by them for the brand and its products and services on their own platforms will give more amount of reach in 2021.
2. Chatbots & Conversational Marketing
These tools increase the conversion rate and ensure genuine leads. From WhatsApp to Facebook Messenger to a lot of third-party tools this can be done in a very easy and effective way.
3. Content Writing
Effective Content Writing with Blogs done on a regular basis with a deep focus on target keywords that are related to your brand will create a great asset for you. Your content should have a catchy title, effective use of images in the content, and also it should be a good read too. You can create podcasts of your blogs and put them along with the blogs too for more reach of your content to your target audience.
4. Creativity with Uniqueness
Not just Ads, Reach, Content but the standard of creativity in terms of the use of Fonts, Graphics, Motion Graphics, Design Styles unique to each brand will go up. Monthly themes, seasonal colors and unique formats of brand representation will be followed in all brands so that they look more professional and stand out in the crowd on social media.
5. Detailed Long Content with Posts
Short content is not always interesting, this will not capture user attention making your reach lower and also not good for SEO. Great graphical, motion graphics, video or blog posts when posted with detailed long content with relevant hashtags and call for action end notes gives amazing results.
6. E-Mail Marketing
Yes, Email marketing is still very useful. Maintaining different types of email lists of your clients, contact, vendors, prospects etc. and sending them regular interesting content which can be useful for them can generate good repeat visibility for brands. These emails can be new updates for products and services, offers etc. or anything which can showcase the thought leadership in the minds of the reader for the brand. Many online tools can be used for auto-scheduling and planning of emails to your target email lists.
7. Indirect Marketing
Taking a different and indirect approach to marketing will help. For eg. If brand A has an e-commerce business of clothing, what they can do is ask a few people to wear those clothes and do a dance step. This will entertain people and along with it will showcase the products as well. A contest on social media around it can be done with recognition and prizes for winners. Another eg. If brand B has a business of Masks & other accessories, we can ask people to share videos of when & where to use a mask, the right way of putting a mask etc.
8. Infographics
Infographics help cover "heavy" topics in an enjoyable way. People rather look at an infographic than read a lengthy text containing the same content. The use of Infographics for brand awareness and content marketing is a creative and effective way of communicating with your audience and target segment. We all must have seen many infographics related to COVID19 protection, washing hands and the importance of wearing masks etc. in 2020.
9. LinkedIn
Use of Linkedin for Personal and Professional Branding, B2B Connections and Hiring Talent will increase. Use of Linkedin for generating leads will go up a big way. Since December 2016, it has been a wholly-owned subsidiary of Microsoft and since then the platform has just grown.
10. Live Online Virtual Events
Virtual Events, Online Webinars, LIVE Sessions and Online Events will be done more. YouTube Live, Facebook Live, Insta Live will increase in 2021.
11. More Ad Platforms
Other than Google Ads, Facebook and Insta AD Budgets will be spent also on YouTube, Spotify, truecaller, LinkedIn more and more..
12. No Leads, No Business
Just visibility and reach is a thing of the past. 2021 will need results by the Agencies for their Brands. Quality Leads to the business will help to grow both client & agency relationships. Better planning and budgeting for achieving the client objectives and satisfying client expectations will help in execution by the agencies.
13. Organic Content
Sharing of brand owner's internally generated content to get more organic engagement on various platforms will be very effective. The content should be a balance between organic pictures, self-shot videos, professionally designed graphics, motion graphics, informative and interesting blogs etc.
14. Personal Branding
Personal Branding will increase a lot. Just like Mark Zuckerberg and Mukesh Ambani, small or big all business owners will use the power of personal branding to show up more and more on Social Media for direct visibility, B2B plus B2C connects and indirect promotion of their brands. Branding is equal to Trust and personal branding helps in the best ways of building trust in minds of buyers. Personalized Video messages by the Brand Owners and Marketers for YouTube, FB, Insta, WhatsApp and more will become a bigger trend than ever in 2021.
15. Podcasts
Podcasting will grow on platforms like spotify, SoundCloud and almost all platforms. Listening sometimes is more relaxing as you don't have to see or read anything. The topics and the podcasters are more specific of what they are speaking. Life Stories, Personal Experiences, Tutorials, Motivational messages, Speeches, Brand related content etc. are some of the most popular themes on podcasts. Podcasts help you to multitask while listening like you can do your work, drive etc. and enjoy listening to your favorite things.
16. Social Commerce
Setting up shops on Facebook and Instagram and directly purchasing from there, reducing the movement of consumers and bringing the point of sales closer will be a bigger trend. Social Media will turn into more of Social Commerce as more and more brands will be promoting direct sales from social media platforms.
17. Stories, Status & Fleets
Stories on Instagram & LinkedIn, Insta Reels, Twitter Fleets, Status updates on FB and WhatsApp etc. are becoming more important than posting - the reach and views of these updates are much higher sometimes than posting. These short and creative messages catch the short attention span of the viewers.
18. Storytelling
We all love stories. Sharing Owners or team member's success story or life journeys will give a personal touch to the brands. Eg. Hospitals can share the success story of a patient before and after the treatment. We can share and celebrate a carrier achievement and story behind a team member etc.
19. Voice Command Recognition
Alexa, Siri & Google Assistant kind of Voice Command recognition devices and its Search performance improvement for your brand's content recognition will be a big thing.
20. Websites with SEO
Role of Websites will be Online Product or Services sales, Landing Page/ Lead Funnels and SEO oriented rich content for the brands for organic ranking on target keywords for brands. Optimization of websites for Search results will become bigger and better. As the algorithms by Google keep on changing, brands will have to keep constant monitoring and keep updating the website for the best ranks on regular basis.
21. Work From Anywhere
2020 forced Work From Home, 2021 will increase Work From Anywhere. More and more brands will encourage this culture and not just members of Digital Marketing and IT but all sectors will explore boundaryless working as much as possible. Brands that support this trend in internal and external ways will capture new markets and expand faster. The hospitality industry too will welcome co-working and work from remote holiday locations culture big time.
---
IFW Web Studio is a leading Digital Marketing Agency in South Rajasthan giving services to clients spread all over India. If you know business owners who are looking to enhance their online presence and would like our team to work for them for business growth, do share this blog with them. We would love to do our detailed research and come up with a new brand promotion strategy for them. 
We can be reached at sales@ifwworld.com or call us at 9314409691 or 9314409690.